This summer Williams are featured twice in Bridge For Design, Summer 2018 issue!
Bridge For Design, named one of the top 100 interior design magazines in the world, is a must read for anyone interested in the world of interior design. Published four times a year Bridge For Design offers an irresistible mix of beautiful homes, interior design news, informative design trend views and advertisers that you won't find elsewhere.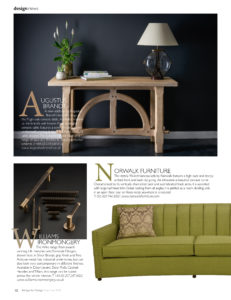 The Wire range from UK manufacturer Turnstyle Design.
Made in England is written into the DNA of Turnstyle Designs, it is part of their logo and something they are immensely proud of, with the wealth of talent that abounds the UK, why would they go anywhere else to make a product of this quality.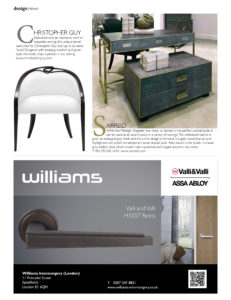 The H 1057 Retro lever handle design by Valli Valli 
The brand philosophy of Valli & Valli aims to integrate the handle as a natural furniture's complement, that can be perceived as a classic and modern item at same time V&V handle represent an endless style of design that can fit with any trend. The range of handles, knobs and pull handles V&V includes two types: handles for opening: doors/windows and fittings for furniture.